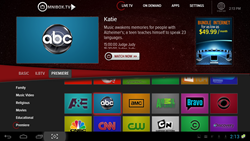 Tampa, FL (PRWEB) August 01, 2014
On July 1, 2014, Omniverse One World Television, Inc. and its product known as OmniBox TV will be available in the top 55 retailers in the United States. We look forward to distributing the OmniBox to the DSI FMS clients. The OmniBox is an extremely interesting product that will do well, said Robert Virden, Senior V.P. of Sales.
DSI Systems will make the The Next Generation OmniBox available to ABT Electronics, Amazon DC, Amazon.com, B2S Direct, Beach Audio, Bed Bath & Beyond, Best Buy Purchasing BtoB, Best Buy Purchasing Magnolia, Camping World, Cascico Music Company, CE Showroom, Cobalt Communications dba iElectronics.com, Connections Dynamics, Costco, Crutchfield, Dwell Media, Eagle Recognition/Carras, Executive Merchandising Services, Federal Stereo, Home Technologies, Huppin's HI-FI Photo & Video, Lumens, Magnell Associates (Newegg), Maritz Motivation, Mason Companies, Nebraska Furniture Mart, Nordstrom, Overstock.com/LTL, Overstock.com, P. C. Richard & Sons, Paulstv.com, PC Club, PCM Logistics, Premium Incentive Sales, Public Identity, Purchasing Power, Quality Incentives, Quibids, QVC, LTL, QVC Inc., Sam's Club, Sears, Shop NBC, Sky Mall, Stands & Mounts, Target, The Bonton Stores, Tiger Direct, Topco Associates, Unbeatablesale.com, Vann's, Wal-Mart Stores, Woot Service, and Your Electronic Warehouse.
Originally posted 2014-09-11 13:10:02. Republished by Old Post Promoter